What We Specialize In
Lee's Collision Center & Body Shop is a locally owned family business that specializes in helping other families find peace of mind through quality work and above average service.
Whether it is your automobile, truck, motorcycle, boat, RV, Camper, or personal watercraft, you will find Lee's Collision Center & Collision Repair ready to serve you in a professional and friendly manner. We want to make you feel like part of the family.
Insurance claim? No problem. Lee's will help you through it or, in many cases, handle the whole thing for you. We can contact and give the insurance company all the information they need to get your vehicle fixed correctly and as soon as possible.
Paying for it yourself? You will find Lee's a business that understands and will try our best to make your job affordable.
Call us at 231-737-5266 or drop by for a free estimate at 3471 Getty St. Muskegon, MI. Come and experience the difference of doing business with Lee's.
About Lee's Collision Center
---
Our mission at Lee's Collision Center is to provide our customers, current and future, peace of mind, ease and "industry best" repairs when they find themselves in a time of need for auto body repair services. We raise the bar when it comes to the image of the auto collision industry. We make every effort, every day to earn our guests' loyalty and referrals so that we may become an icon in our community when it comes to best in class auto body repair in West Michigan.
We specialize in auto body repair and are delighted to work on any car regardless of vehicle type. And it doesn't cost you any more than it would at any other shop in town!
If your vehicle was recently damaged, we know there's really only one thing you want from a collision repair shop – to have your vehicle fully restored to it's previous condition . Lee's Collision Center is a locally-owned family business. Lee's has been serving the West Michigan area with integrity and distinction for over 75 years. Once you contact us you'll quickly discover why Lee's Collision Center is the body repair shop for owners who truly care about their car.
A sixty second phone call to our West Michigan auto body repair shop can be the difference between having your car just repaired or having it repaired right! Lee's Collision Center is committed to providing uncompromising service and precision craftsmanship for each and every customer we have the opportunity to serve. Our friendly, expert staff are here to serve all of your needs; we go above and beyond on a daily basis.
Drag the Bar Below to See Before & After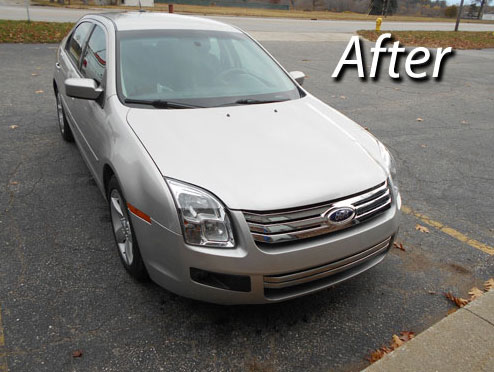 Our Services & Specialities
---
If you're looking for comprehensive, state-of-the-art collision repair services in West Michigan, look no further than Lee's Collision Center! We repair vehicles to the highest industry standards, for the lowest rates and in the shortest time possible. For 75 years Lee's has been satisfying customers and their families in the West Michigan area. We have consistently exceeded our customers' expectations, and that's the reason our customers return to us again and again for their collision repair needs.
Other Services Include:
Flawless Auto Body Painting
Excellent Decaling
Paintless Dent Repair (PDR)
Luxury Expertise
Overall Superb Auto Body Repair